Annie's Choirs and Classes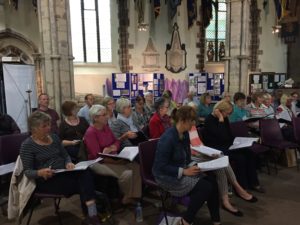 I run four groups in and around the Lincoln area:
S.C.O.N.E. (Steampunk Choir of Notorious Excellence) – Monday evenings, 7pm.  University of Lincoln, Tennyson Building.   Interest in Steampunk will avoid confusion!  Repertoire mostly parodies and Victorian Music Hall…  (Subs via donation)
Treble Cliff – Tuesday afternoons, 2pm. Club Room, 'The Venue', Grantham Road, Navenby. LN5 0JJ. (Subs £5 per week)
Cliff Ukuleles – Wednesday afternoons, 2pm, Club Room, 'The Venue', Grantham Road, Navenby. LN5 0JJ (Subs £5 per week)
Vocal Authority/Ermine Voices – Thursday evenings, 7pm – 8:30pm.  Ermine United Reformed Church, Sudbrooke Drive, Lincoln, LN2 2EF.  Subs are via donation according to ability to pay.
Subs cover all sheet music, lyrics, tuition, practice CDs, room hire and any refreshments provided.
We sing a great variety of songs – from rock and pop through to slow ballads and folk tunes (check out the sound/video downloads page for an idea of the sort of thing that we do).  In the academic year 2016-2017 we have raised over £1000 for charity (Teenage Cancer Trust and the Multiple Sclerosis Society), and sung at Lincoln Cathedral, in a huge BBC production at Lincoln Castle as well as lots of smaller venues and events.  We are happy for members to sing out at events, or to keep their singing with our weekly sessions – whatever makes them most comfortable.
We pride ourselves on being welcoming and friendly, and we particularly specialise in those who have been told they "can't sing"!  There are no auditions, and no-one sings solo.  We all raise our voices together and make a truly joyous noise…
Come and join us!!!
Email Annie on annie@anniegriffith.co.uk for more details, or just turn up and sing!