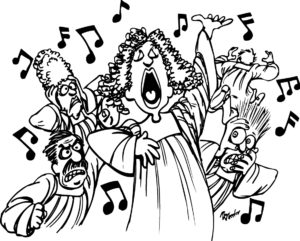 There are many things in this life that irritate me to the point of… well, maybe not violence, but certainly a heartfelt "GRRRRR!" under my breath and stalking away to put the kettle on.  Bullying, racism, being rude to waiters….  And first and foremost: people who think that if they can't hit a note reliably from the age of 3 or 4, then they are 'tone deaf' and should never be allowed to sing.
I've spoken at length on every platform I can think of about why this is a complete fallacy.
Yes, some people do seem to be able to hit notes more reliably than others.  If you look a little closer into the background of these people, you will see that they've often had a very early exposure to music.  Maybe their parents played music, or they had older siblings who played records when they were around, or they were just encouraged to sing along in the car to make journeys a little less boring.  None of these things *seem* exceptional, but they encouraged the people to start listening and experimenting with their voices early.  They didn't have time to learn fear, and by the time that external judgement and fear kicked in, the habit of singing was already ingrained.  They weren't child prodigies, able to belt out the collected works of Wagner from their pram before they could talk – no, they just started *working* a little earlier than everyone else, and before they understood that it was, indeed, working, at all.
Everyone else, and it's a big percentage of the population, just has to do a bit of work to catch up.  Make no mistake, however, you can catch up.  In much the same way that some children can walk at 9 months old and others are still happily shuffling around on their bottoms at three, but almost everyone eventually manages to make it onto two feet, you can totally learn to sing at your own pace.
Singing is more than the simple act of opening your mouth and hitting the right note.  It involves breathing, learning lyrics, telling a story, the muscular techniques of controlling your voice and much, much more.  But to start with, we're going to concentrate on just hitting the right notes.
So – having problems hitting those notes?  Can you hear that you are wrong?  If you can't hear that you are wrong, the most basic advice is to go back to the drawing board and listen to lots and lots of music.  Listen to it all the time.  Sing along with it constantly.  Slowly but surely, you'll start to differentiate between the notes and understand where your voice is sitting in regards to the tune (in tune, out of tune, varying between the two?).
At this point you can come back to how to get your voice singing the same notes as you are hearing.  (And make no mistake, singing is *always* about what you are hearing – whether it's out loud, or internal, you always hear what you are meant to be copying…).
I would recommend getting a piano, or a cheap keyboard – it doesn't have to be expensive and take up a lot of room, your local electronics or music shop will probably have something for under £50 which will do you just fine.  Now remember that you don't have to be able to "play the piano" to get a note out of it.  You'll probably look at it in confusion for a little while first and wonder what the heck you are meant to do with it.
Play a note.  Any note, but one from near the middle of the keyboard is probably a good move.  Play it a couple of times and really listen to it.  Imagine in your head how it is going to sound before you play it for the third or fourth time.  Before singing it, play it and imagine it again.  Finally, after imagining it a LOT of times and playing it even more, open your mouth and try to sing it.
How was it?  A bit high?  Too low?  Not sure?  Kind of wobbly?  Play it again and try again – any better, or can't you tell?  Try a few notes, one after the other and try to copy them with your voice, always using the trick of "Listen, imagine, sing".  Always imagine before you open your mouth!
This is not an overnight fix.  You need to put aside a few minutes every single day to do this exercise, and slowly but surely you will find that your voice and your ear start to work together.  You can hit the pitches you are aiming for!  A happy side effect is that if you are singing for just 15 minutes, but every single day, your voice strength and range will increase as well!  Hurrah!  Get singing!