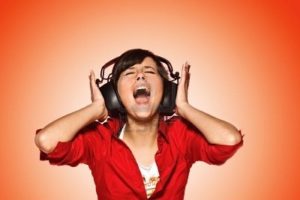 For most beginning singers, the volume of their voice is something that bothers them almost as much as how in tune they are.  I've lost track of how many times I have stood in front of a group of new singers and asked them to reproduce a note, and hear them enthusiastically sing back a variety of wrong notes, then ask them to do the same exercise again, but quietly, and hear 95% of them hit the note accurately.
Equally, I hear people every week who can't hit a note unless they metaphorically run at it, belting out anything in the upper third of their range, and unable to access that without the volume.
Volume shouldn't be a tool to *achieve* accuracy, it should be a tool that you can deploy *alongside* accuracy to breathe life into your performance of a song.  It can also be the enemy if you let it.
Believe it or not the vast amount of problems with tuning for singers is not to do with technical details, but entirely to do with not *listening* correctly.  If you can't tell if you are singing a note correctly, I *highly* recommend using an app called "Vocal Lab" – it is what I use to chart whether students are staying on key, and if not, whereabouts they are having problems.  It is £6.99 from the Mac App Store, and there are similar packages available for Windows as well.  What you need to do with this is fire it up, and then play a note.  Attempt to sing it back.  Look at what the computer says you are singing – are you sharp or flat?  Singing too low or high?  Try again, this time a little more quietly.  How does that attempt compare to the first one?  Easier or harder?
Now, try breathing in – a big breath into your tummy.  Sing the same note, quietly, just using a tiny bit of the air you drew into your lungs and tummy.  Hold the note.  Listen to whether it wiggles up and down or shakes.  Try and ease those shakes out.  Aim for the smoothest, most consistent note that you can.  Look at how the line is being drawn on your screen and work at keeping it as smooth as possible.  Most importantly though, pay attention to your breathing and where the note actually is.  On Vocal Lab, you will get a readout at the top of the screen telling you what note you are actually singing, and you'll need to make sure that you aren't miles away from that, by lowering or heightening the pitch of your voice.  Be careful to listen closely to the note you are trying to sing before you start, though!
Making your singing voice louder is entirely a matter of breathing, and where you 'place' your voice.  You should always be breathing into your tummy, and aiming to having a loose, relaxed throat when producing a note (exercises with the throat, neck and face can help enormously with this).  Broadway show type "belting" is an extreme (and often damaging) technique which can use a lot of air and often requires the manipulation of vowel sounds to get some of the showier effects.  It can, if done correctly, make your whole head almost rattle or hum with the force of the sound you are producing, as indeed, can a good operatic voice!  For a loud, belting voice, imagine the sound being fuelled from your stomach-reservoir of air, but being produced from the front of your face (imagine it as a mask of sound).  The more air you push through under pressure, the more power that mask will have, and the more powerful your voice will sound.  But nobody wants to sound like a Broadway Belter all the time (even the Broadway Belters!), and to get the quieter, more precise, voice, imagine that you have a tiny, delicate music box in the back of your throat, that produces gentle, tinkling music…
Most people will naturally swap from their chest to head registers when ascending a scale quietly.  If trying to holler it, they will stay in their powerful chest register and will find it difficult to access your higher notes.  It is, however, much easier to go a long way down a scale in head voice without ever switching to chest voice, and it won't be until the bottom three or so notes that you will notice any difference apart from volume…
I'm hoping to find some time to record some vocal exercises in the next few weeks and I'll demonstrate exactly what I mean by that.  But until then, I really recommend getting a voice analyser such as Vocal Lab and seeing exactly where you are singing, and how to improve it.